Speech Pathologist Alice Montgomery - Biography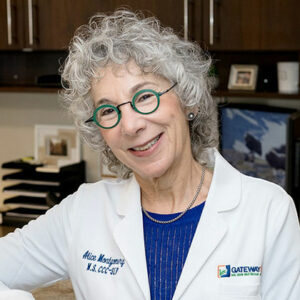 Alice Montgomery, M.S. CCC-SLP
"Singing is not just a hobby for most people who sing. It's a way of life, and their singing voice is their primary instrument of expression. Helping singers, who have trouble with their voice, regain the satisfaction and the pleasure singing brings is my primary goal in therapy."
● Voice care and rehabilitation for singers, actors, and other professional voice users.
● Master's Degree in Speech Pathology from Fontbonne University.
Additional background information
As a professional singer, and a mezzo-soprano, Ms. Montgomery understands the importance of vocal health. Since moving from New York City to St. Louis, she has worked as a Voice Therapist and Singing Specialist for more than 20 years. Her years studying under such singing greats as Adele Addison, Richard Hughes, Henry Lewis, Clarice Carson, and Dickson Titus give her a unique perspective outside of the clinical setting. Additionally, her singing and voice career have included:
● Teaching singing and Vocal Pedagogy at Webster University.
● Scholarship recipient for the Tanglewood Festival, Mannes Workshop, and the Aspen Music Festival.
● Finalist in the Lyric Opera of Chicago Competition.
● Soloist with the Baltimore Choral Arts Society, New York Choral Society, Bach at the Sem, Sheldon Chorale, St, Luke's Chamber Ensemble, Opera Ensemble of New York, Pennsylvania Opera Festival, and the St. Louis Opera Theatre.