Dr. Mark Stroble - Biography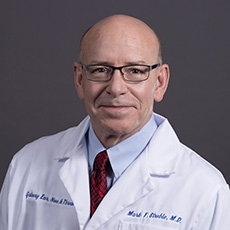 "I enjoy the ability to treat patients in our office clinic and manage more involved cases in the operating room.
Over the years, it's been a privilege to work with 5 highly trained, compassionate partners. Our caring employees are the heart of our practice."
Adult and Pediatric Otolaryngologist
Board Certified American Board of Otolaryngology Head and Neck Surgery
University of Missouri: Otolaryngology Residency and General Surgery Intership
University of Missouri: Doctor of Medicine
University of Notre Dame: B.A.
Gateway Private Practice Otolaryngologist
Dr. Stroble is a native to St. Louis who has been in private practice for nearly 30 years. He is board certified and trained in all aspects of Pediatric and Adult Otolaryngology
Top Doctors in America 2021 (Top Doctors, Castle Connolly, replacing Best Doctors in America Database)
Best Doctors in America, 2014-2020
"I enjoy the practice of Otolaryngology/ Ear, Nose and Throat and the wide variety of patients and problems we encounter on a daily basis. From a 10 month old infant with ear problems, to a 90 year old with hearing problems, a teenager with tonsillitis, or a college student with hoarseness, they're all interesting. I enjoy the ability to treat patients in our office clinic and manage more involved cases in the operating room. Over the years, it's been a privilege to work with 5 highly trained, compassionate partners. Our caring employees are the heart of our practice – some have been with us for more than 15 years."
Member of the American Academy of Otolaryngology – Head and Neck Surgery:
Member of the St. Louis Metropolitan Medical Society:
Member of the St. Louis Physician Alliance:
Courtesy Privilege options available at additional hospitals.
Casa de Salud (volunteer physician) Medical clinic in Midtown St. Louis. Casa de Salud facilitates and delivers high quality clinical and mental health services for uninsured and underinsured patients, focusing on new immigrants and refugees who encounter barriers to accessing other sources of care.
Alumni Board: St. Louis University High School