Dr. Emily Ziaee - Biography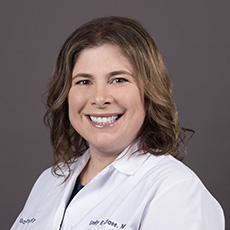 "While I enjoy doing surgical procedures, the most important part of my practice is getting to know my patient's story and that starts with open and accessible communication."
Adult and Pediatric Otolaryngologist
Board Certified American Board of Otolaryngology Head and Neck Surgery
Fellow American College of Surgeons
St. Louis University: Otolaryngology Residency, General Surgery Internship
University of Louisville: Doctor of Medicine – Alpha Omega Alpha Honor Society
Duke University: Bachelor of Science – Mathematics
Gateway Private Practice Otolaryngologist
Dr. Emily Ziaee, born and raised in St. Louis, is a private practice, board-certified Otolaryngologist who has been in private practice for nearly 15 years. She is trained in all areas of Adult and Pediatric Otolaryngology. She is a member of the St. Louis Physician Alliance (SLPA) and the SLPA ACO. This organization includes over 650 independent physician members, participating in a clinically integrated network. Being in private practice gives Dr. Ziaee the ability to collaborate with any physician, facility or specialist she thinks will most benefit the patient.
● Top Doctors in America 2022 (Top Doctors, Castle Connolly, replacing Best Doctors in America Database)
"While I enjoy doing surgical procedures, the most important part of my practice is getting to know my patient's story and that starts with open and accessible communication. I enjoy working closely with them from the initial meeting and together working toward successful medical or surgical treatment."
"I especially enjoy office-based procedures, including balloon sinuplasty."
Member of the American Academy of Otolaryngology – Head and Neck Surgery:
Fellow of the American College of Surgeons:
Member of the St. Louis Metropolitan Medical Society:
Member of the St. Louis Physician Alliance.
Courtesy Privilege options available at additional hospitals.
Dr. Ziaee is not only very involved in volunteer opportunities at her children's schools, she also supports Monroe Elementary School.
Additionally, she is actively involved with Marygrove Children's Home, one of the only organizations in the St. Louis metro area that offers a broad spectrum of residential and community-based programming, including therapeutic residential treatment and foster care, transitional and independent living programs, crisis care, education and recreational therapy, family counseling, parenting education and mentoring, Marygrove enriches the lives of over 1,000 young people each year.