Dr. Scott Hardeman - Biography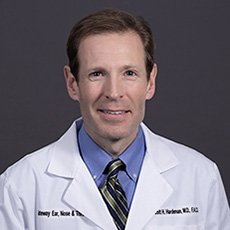 "I love being an ENT physician. It attracted me because it is unique in that the practice of ear, nose and throat is spent not only in the office interacting with patients but also in the operating room. I enjoy being a clinician and a surgeon."
Adult and Pediatric Otolaryngologist
Board Certified American Board of Otolaryngology Head and Neck Surgery
Fellow American College of Surgeons
St. Louis University: Otolaryngology Residency, General Surgery Internship
University of Missouri Kansas City: Doctor of Medicine
University of Missouri Kansas City: Bachelor's degree – Biology
Partner: Gateway ENT, 1999-present
Chairman: St. Louis Physician Alliance, 2013-2020
Specialty Advisory Board: Medical Protective Medical Malpractice Company, 2014-2019
Dr. Scott Hardeman is a private practice Otolaryngologist and has been in private practice for more than twenty years. Recently, he was the Chairman of the St. Louis Physician Alliance (SLPA) and the SLPA ACO. This organization includes over 650 physician members, participating in a clinically integrated network. It is one of the most successful ACOs in Missouri. He was a member of the Specialty Advisory Board of the Medical Protective Medical Malpractice Company. In addition to enjoying the practice of medicine, Dr. Hardeman has an interest in empowering physicians to be leaders in the delivery of healthcare. This interest also includes developing strategies to maintain private practices. He is also a founding member of Urgent Specialists, the only full-service urgent care with on-call specialty physicians.
Dr. Hardeman feels it is imperative that we as physicians do all we can to maintain the doctor patient relationship and bring all care decisions back to the exam room. Maintaining the highest quality of care is paramount in this relationship. Dr. Hardeman is involved in many activities at the State and Federal level to reform the delivery of healthcare. The principal goal is to restore free market solutions to lower the cost of healthcare, making healthcare patient centered, as is should be. Recent efforts include time spent in Washington DC, with key involvement in developing a new personal healthcare plan.
Top Doctors in America 2021 & 2022 (Top Doctors, Castle Connolly, replacing Best Doctors in America Database)
Best Doctors in America: 2014-2016, 2019-2020 (Best Doctors in America database)
Best Otolaryngologist in Missouri: 2020 (Castle Connolly Database)
Arthur H. Gale, M.D. Writer's Award: 2019
St. Louis ENT Club President: 2012
St. Louis University Professor of the Year: 2000 – 2001
"I love being an ENT physician. It attracted me because it is unique in that the practice of ear, nose and throat is spent not only in the office interacting with patients but also in the operating room. I enjoy being a clinician and a surgeon. It is also a specialty where I get to see babies, kids, and adults. I have been in practice long enough now that some of the babies I've treated, now see me as adults and often bring their kids in for care. That is pretty special."
"While I appreciate the whole field of Otolaryngology, I find a particular interest in the treatment of challenging sinus conditions."
Dr. Hardeman has supported the International Medical Assistance Foundation in partnership with the Catholic Medical Association to provide much needed surgical care to patients in Honduras with little access to ENT medical help. Through this partnership the group has supported the building of a hospital in Juticalpa, Honduras where ENT and other surgical volunteer groups continue to provide medical care. For more information on this foundation:
Member of the American Academy of Otolaryngology – Head and Neck Surgery:
Fellow of the American College of Surgeons:
Member of the St. Louis Metropolitan Medical Society:
Member of the St. Louis Physician Alliance.
Courtesy Privilege options available at additional hospitals.